Holy moly.  Yes, I am writing on here again.  For the first time in what seems like an ice age (it's not, but let me be melodramatic just this once).
I had so many things planned for this month – documenting Plastic Free July, fun collaborations with Biome, expanding on the Cladwell #takethetime challenge, documenting a new fitness regime.  And then boom – photo shoots, extra fitness classes, upcoming full time work at the office, other exciting stuff with Sustomi.
It's all happening people!  I'm not complaining.  Just the timing of everything colliding together is like all the planets aligning in The Great Conjunction (man I need to watch The Dark Crystal again) and has thrown me quite the curve ball.
Suffice to say that I don't think you guys are going to be seeing me around much for the next few months.  And I'm sorry about that but really it's the reality of trying to juggle so many hats.  My few recent appearances  on the blog have been less than the quality I hold myself to, and when it gets to that stage, well something's got to give.
Not all is lost though!  I am still doing Plastic Free July and I will still document my efforts and how it's going.  I'm still using the Cladwell app and I'm excited to share my thoughts on it and how the app has been working for me.  There's a post brewing in the works about how to start a capsule wardrobe and the things that you should avoid if you're adopting one for the first time (i.e. the mistakes I made).  Also we are a wander-lusting at the end of the year, and I've got a few posts about packing for overseas travel.  All that good stuff.
In the mean time, here is my viewing recommendation for these very chilly July nights that we have been having.
If you have Netflix, go and watch Brooklyn Nine-Nine.
I'm a huge fan of The Lonely Island, and all three of the boys (Andy, Jorma, and Akiva) have a hand in starring (most specifically Andy), directing or producing this sitcom.  This is a cop comedy, less cringe worthy than The Office (so sue me), snappy, not too ambitious, or over compensating.  It's enjoyable watching, not dumb with lovely writing, and as my favourite director, Guillermo del Toro, described it "Gentle spirit by precisely-timed humour.  Soul comfort food".  I like it a lot.  I like the characters, I like the actors' portrayal, I like the relatable escapism.  You don't feel like you're losing brain cells as you watch, you don't feel hulked up on scenes of testosterone fuelled alpha dominance and aviator-replacing one liners like Horatio Caine, and you're surprised by genuinely funny moments, out of the blue, that have you spontaneously cackling.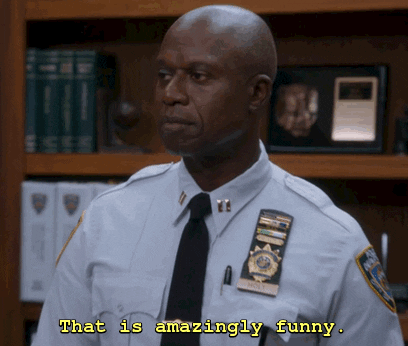 Also, who doesn't love to see Terry Crews not screaming about Old Spice and instead talking all day about his baby twin girls and how much he loves his yoghurt.